Born from a desire to redefine marine logistics standards in Nigeria while safely providing 100% planned vessel uptime for our esteemed clients
Home > About Us > Overview
Tamrose was founded in 2003, born from the desire to redefine marine logistics standard in Nigeria. Our goal is to become the dominant marine logistics service provider first in Nigeria and progressively in the West African region. Tamrose set out to continuously redefine the African marine logistics standards. We are therefore prominent in elevating our service levels to the highest client expectations with footprint in Nigeria, followed by West Africa, Africa and the rest of the world.
Noting the opportunity gap for a world-class player, TAMROSE forayed into the maritime sector in 2010 with our pioneer vessel: the TMC PRIMUS followed by a Damen FSC 3307 – TMC EAGLE in 2013.
From day one, we set out to be different – brand new vessels, ambient working environment, a robust and resilient corporate structure staffed with highly trained and motivated talents to deliver excellent services to our clients.
Always seeking better solutions, we embarked on a strategic fleet streamlining process which culminated in the sale of TMC Primus and the addition of two more brand new Damen FCS 3307 series – TMC ANGEL and TMC HAWK. These vessels were delivered in May and June 2015 respectively – thus setting the tone for our reputation as a niche leader in the offshore security patrol and escort segment of the marine logistics value chain.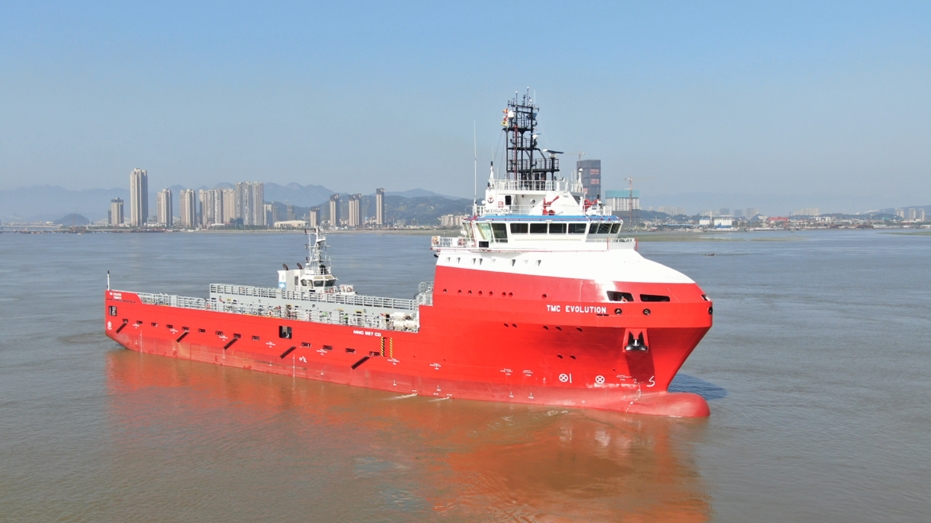 Our Present Flagship:
The TMC EVOLUTION
an ultra-modern, 1,000sqm, 5,000 DWT CDII Design built by Mawei Shipyard, China is presently supporting one of our highly esteemed IOC clients offshore Nigeria.
SECURITY VESSELS
We own the most diversified and representative built-for-purpose offshore security patrol vessels in Nigeria; making us the indisputable niche leader in offshore marine security.
> 3 Damen FCS 3307
> 1 Nautic Sentinel
> 6 Penguin Flex Fighters
PLATFORM SUPPLY VESSELS
We own one of the largest and most modern Diesel-Electric propulsion, Clean Design PSVs in Nigeria!
> 5,000 DW MMC87 CDII
> 3,200 DW UT75
Our Strategy
Going Forward
To continuously redefine African marine logistics standards. We must be prominent
in elevating our service levels to the highest client expectations – and then our footprint, first and foremost in Nigeria, followed by West Africa, Africa and the World rest of the world.
As stated in our

Quality Policy Statement

, we take the opportunity of every client's request to demonstrate our commitment to excellence and safety. As business partners to our clients, we invest a lot in building trust relationships with the business we support.
Tamrose will keep the ship sailing against all odds. Our resolute march towards our vision of dominance is driven by our unwavering focus on:
A safety oriented operational culture which is synonymous with world-class excellence  

Responsive, ISO 9001: 2015 certified processes and well-established organizational structures

Growing our reputation for ethical, global best practice which we overlay on local, niche expertise and capacity. 

A defined growth and management strategy leading to rapid, sustainable, fleet expansion.

Excellent service delivery and prompt response derived from a laser focus on customer-centricity.
To be the dominant marine logistic services provider in the Nigerian oil and gas industry.
We are a safety-oriented, customer-centric organisation focused on providing well-maintained and manned vessels. Our objective is, prompt response to clients' needs, and flexibility in meeting their aspirations in the oil and gas industry.
We are the hallmark of service excellence in Nigeria and we uphold the highest safety standards.


Fully indigenous, we combine our local expertise, exceptionally cordial community relationship, well maintained tonnages and ISO certified processes to deliver world class services to some of the most discerning clients in Nigeria.


The world's top IOCs trust us because they know that we get the job done safely and efficiently time and time again.


A local content champion, we combine our indigenous status and global best practices
to create a reliable bridge that consistently delivers value to our international clients. Tamrose is the gateway to Nigeria.


We leverage our knowledge of the waters, people, governance and systems to create superior value for all stakeholders.


We make a real impact through The TAMROSE Foundation. We invest in Nigerian youths to uplift, upskill and re-orient a new generation of value-oriented and ethical professionals.


We are an Employer of Choice. Tamrose is a business that attracts and develops the best indigenous talent in a sustainable, meaningful way that will change your view of the west coast of Africa.


Our commitment to safety goes beyond statutory; it is the philosophy that shapes our operations. In Tamrose, adherence to safety standards is not compliance but a way of life.
Recognising the challenges of indigenous owned marine businesses in Nigeria, we have set out to create a new experience for our clients.
Tamrose Limited is distinguished by our: