Born from a desire to redefine marine
logistics standards in Nigeria
Home > About Us > Overview
Founded in 2003, our company is renowned for consistently delivering safely, skilfully, dependably, compliantly and sustainably to our clients. 
Incorporated in 2003 – the same year the Nigerian Cabotage Act was enacted – initially as TAMROSE Ventures, we started our journey towards our goal. From the out start we aimed to become the most trusted procurement and engineering services provider to the West African oil and gas industry.
Noting the opportunity gap for a world-class player, TAMROSE forayed into the maritime sector in 2010 with our pioneer vessel: the TMC PRIMUS followed by a Damen FSC 3307 – TMC EAGLE in 2013.
Always seeking better solutions, we embarked on a strategic fleet streamlining process which cumulated in the sale of TMC Primus and the addition of two more brand new Damen FCS 3307 series – TMC ANGEL and TMC HAWK. These vessels were delivered in May and June 2015 respectively – thus setting the tone for our reputation as a niche leader in the offshore security patrol and escort segment of the marine logistic value chain.
TAMROSE is testimony to aggressive strategic planning and organizational alignment on customer-centricity with a laser-like focus on excellent execution. We spent the years 2015 – 2019 evaluating and re-evaluating the industry landscape and honing our expansion strategy. In executing the resulting strategy 6 Penguin Shipyard built-for-purpose, ballistic protected, high speed offshore security patrol vessels and 2 (two) Platform Supply Vessels were acquired between 2018 and 2019.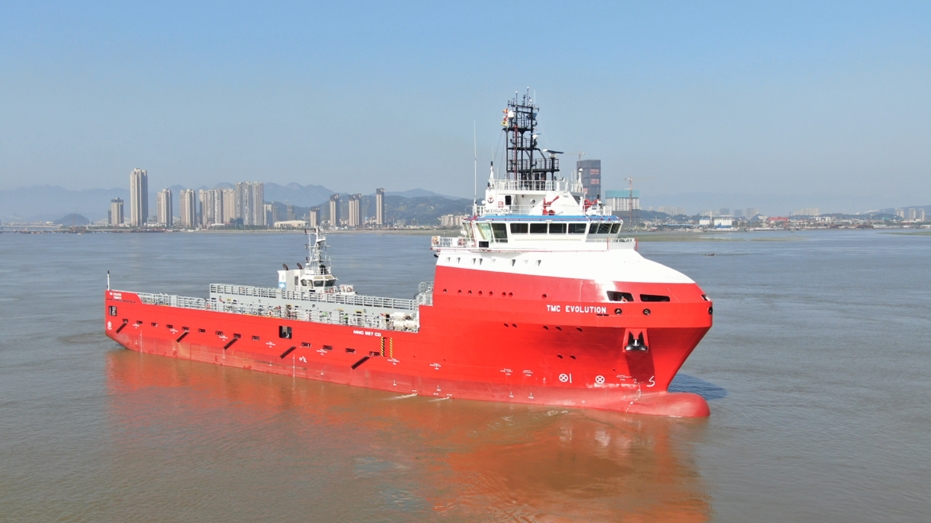 Our present flagship:
The TMC Evolution
an ultra-modern, 1,000sqm, 5,000 DWT CDII Design built by Mawei Shipyard, China is presently supporting one of our highly esteemed IOC clients offshore Nigeria.
SECURITY VESSELS
We own the most diversified and representative built-for-purpose offshore security patrol vessels in Nigeria; making us the indisputable niche leader in offshore marine security.
> 3 Damen FCS 3307
> 1 Nautic Sentinel
> 6 Penguin Flex Fighters
PLATFORM SUPPLY VESSELS
We own one of the largest and most modern Diesel-Electric propulsion, Clean Design PSVs in Nigeria!
> 5,000 DW MMC87 CDII
> 3,200 DW UT75
Our Strategy
Going Forward
To continuously redefine African marine logistics standards. We must be prominent in elevating our service levels to the highest client expectations – and then our footprint, first and foremost in Nigeria, followed by West Africa, Africa and the World awaits.
As encapsulated in our Quality Policy Statement, every client request is an opportunity to showcase the exceptional and excellent TAMROSE brand. Every day is a new opportunity to push your business forward.
TAMROSE will keep the ship sailing against all odds. Our resolute march towards our vision of dominance is driven by our unwavering focus on:
A safety oriented operational culture which is synonymous with world-class excellence  

Responsive, ISO 9001: 2015 certified processes and well-established organizational structures

Growing our reputation for ethical, global best practice which we overlay on local, niche expertise and capacity. 

A defined growth and management strategy leading to rapid, sustainable, fleet expansion.

Excellent service delivery and prompt response derived from a laser focus on customer-centricity.
To be the dominant marine logistic services provider in the Nigerian oil and gas industry.
We are a safety-oriented, customer-centric organisation focused on providing well-maintained and manned vessels. Our objective is, prompt response to clients' needs, and flexibility in meeting their aspirations in the oil and gas industry.